Interested in being a Substitute Teacher in our District?
Applicants interested in substitute teaching should sign up with Grant Wood AEA. Grant Wood AEA houses the computerized substitute assignment system called SubCentral. All of our substitute teachers will need to sign up with Grant Wood AEA.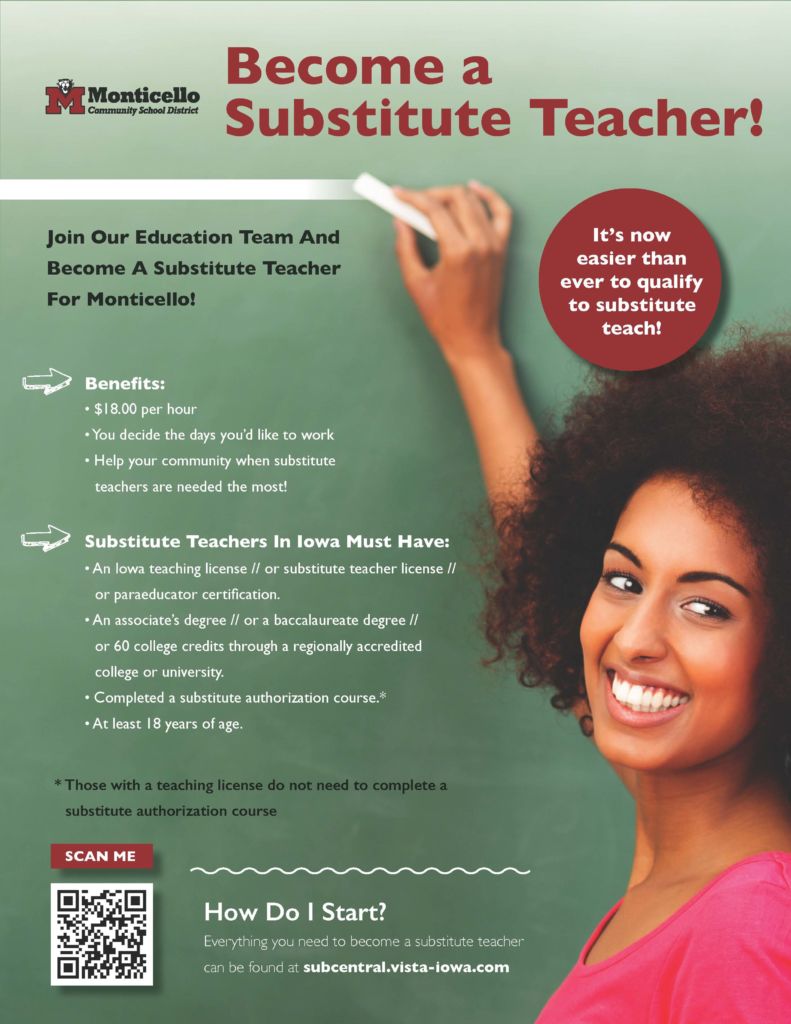 Interested in applying for a non-certified substitute position? (such as a bus driver, food service employee, clerical, custodian, or a teacher's associate)
If you have any questions, please contact Brooke Scott at the District Office, 850 E Oak Street, Monticello, IA 52310, via email at brooke.scott@monticello.k12.ia.us, or via phone at 319-465-3000, option 1, then option 2. Applications are available via the link above, or you can pick one up at the District Office. Please also submit a cover letter and resume if possible.
Employee Physical – All employees & substitutes will be required to submit to a pre-employment physical examination after an offer of employment has been made and before the beginning of service.
Employment Background Checks: A criminal background check will be completed for each applicant who would like to substitute. Please click on the link below for the forms.
Once a Substitute is Approved: Once the background check is approved, you will be mailed a new hire packet with all payroll forms included. You will need to complete all paperwork and return it to the district office before being added to the substitute list. When all paperwork is submitted, you will be added to the substitute list at the buildings you want to work at. Most subs then are called by the building secretary or principal. Sometimes you will be called in advance and sometimes it could be the morning of that someone is needed.
Receiving approval to be added to a substitute list does not ensure employment. Substitute positions are temporary positions that are not contracted; days and hours are not guaranteed. Substitutes are not considered as "internal" employees and therefore when applying for any contracted job postings, substitutes should answer "no" when answering the following online job application question, "Are you currently employed by the Monticello Community School District?".
Substitute Pay is as follows:
Sub Nurses – $144 per day (based on 8 hours)
Sub Associates – $11 per hour
Sub Bus Driver – $19.50 per hour
Sub Custodian – $12 per hour
Sub Food Service – $13 per hour
Sub Clerical – $11.50 per hour