---
1/11/2021 – Late last week, Governor Kim Reynolds lifted restrictions on spectator limitations at high school events. Even though restrictions have been lifted, according to her Proclamation, Monticello must still be able to provide a safe environment by social distancing and requiring face coverings of spectators.
At this time, we will be adding 2 tickets per participant, cheerleader, pep band member, and coach. So, each of those people will receive 4 tickets, plus the household members can attend if they come in with a parent.
We will not be clearing the gym out after each level plays.
So, for example, if a player's parents and siblings come, that would take 2 tickets. The other 2 tickets could be given to anyone else that player chooses to give them to.
This will be for home events. For away events, we will follow the guidance of the host school.
We will continue to evaluate this as we move forward and make adjustments as we see fit to safely host these events.
---
12/18/2020 – Starting with activities tonight, per the Governor's latest proclamation, households are now allowed to come watch each participant in our activities. 

The River Valley Conference has agreed to keep giving each participant 2 tickets. Adults from the household should use these to get in like we have been doing. Siblings can enter without a ticket, as long as they enter with the adult from their household. 

If the 2 tickets are given to someone not from the household, like to grandparents, for example, the siblings may not enter with them because it is a different household. 

All members of the household should sit together. And a reminder, masks are required. We've had a few issues with this, and we need to please all follow this rule.

If you have questions about this, please contact Mr. Lambert at the High School and we will work through it. 
---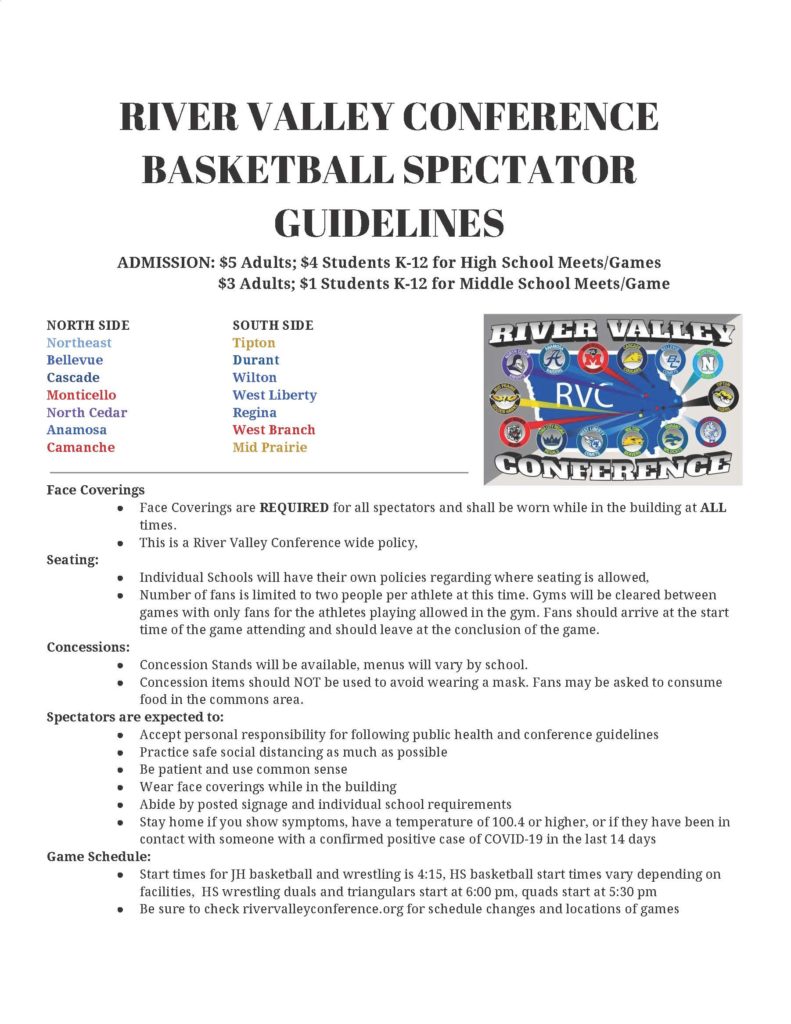 Download River Valley Conference BBall Guidelines PDF
---
COVID-19 Guidelines
All spectators are required to wear masks.
Fans should maintain at least 6 feet of social distance from anyone not in their immediate family.
Every other row of the bleachers should be kept empty. Rows to be left empty will be marked with an X.
When you come here for MS BB, it is in our new MS gym at the HS campus. There is an activity entrance by the new parking lot at that building to come in for these games.
For JV/V nights, the JV will play in that new MS gym, but fans will enter the main HS entrance for JV and V
All Wrestling for all levels will be in the HS gym and fans enter the new main HS entrance.
Students in grades PK-6 must sit with their household members.
We are putting these rules in place to help create a safe environment for all spectators, and to help make sure we are able to continue our activities with no shutdowns. Please respect these rules and help us as we try to have a safe season for all fans and team members. If these rules need to be adjusted as the season goes on, we may have to look at requiring masks for all fans, or limiting the number of fans allowed into the stadium. Thank you for your cooperation, and GO Panthers!!!